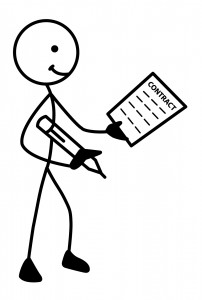 A little note can make such a difference! The purpose of a thank you note is to let a person know how much his or her generosity and kindness are appreciated. It doesn't have to be long – a brief thoughtful note is all that you need.
When should you write a thank you? The general rule is that if you open a gift when the giver is there and thank him in person sending a note is not necessary. (Now that doesn't mean that you can't write a thank you note anytime. Why not write a quick thank you to let them know how much you are enjoying the gift!) But if you receive a present by mail or open presents later, it is important to write a thank you note.
Always try to write something specific about the gift. If you get a gift certificate or money tell them what you plan to do with it.
Begin by either making your own card or buying ready-made cards. In today's modern world, it's even acceptable to write a nice email. (Don't just type a few lines but give it a little more thought and maybe attach a picture of you playing with your new toy.) A hand-written note is an even nicer touch! It shows that you took a little extra time.
The Steps:
1. Begin by talking about the gift. Say something positive. Have you used it? Did someone else comment on it? What did you really like about it?
2. Thank them for coming to your party or house.
3. To end the note, just thank them a second time.
CLICK HERE to download a free thank you guide for your kids.
Game Challenge:
Ask your child to write a thank you note to someone – his coach, his teacher, a friend, a family member.
Are you and your child ready to get in the game?
Best,
Suzanne M. Wind
Mom with a Mission
Author of The SMART Playbook. Game-changing life skills for a modern world.