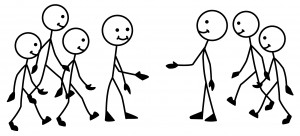 Today I see too many kids who have no idea how to introduce themselves to others or even to speak up for themselves when meeting someone new. College administrators and human resource directors say even plenty of young adults don't know how to properly greet others or introduce themselves and it actually holds them back from making a good impression.
Why do we need to teach our kids how to greet someone? A first impression is what a person thinks of you the first time he meet you. You only get one chance to make a great first impression so make it BIG! Having the ability to make a great connection at a first meeting can have a tremendous impact on self-confidence, but also on how children and adults are perceived. It's a social skill that requires practicing and the earlier you start the better.
The Perfect Handshake – master these easy 5 steps with your children:
1) Make eye contact
2) Hold out your hand to shake the other's hand
3) Smile
4) Give a firm handshake
5) While shaking hands say, "Hi, my name is ———"
GAME CHALLENGE: The Perfect Handshake. Shake someone's hand today. Stand up tall, speak clearly and use their names. Don't forget eye contact. Give it a quick firm shake.