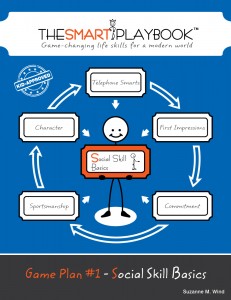 To celebrate the launch of my new book, The SMART Playbook, I am giving away Game Plan #1: Social Skill Basics for the first few weeks of April!
There's more than 3500 books published everyday! That's a lot of books for any reader to wade through, notice mine, and then decide to take a chance on it.
An important way for a book to get noticed by new readers is through honest reviews- posted by other readers like you. That's where Story Cartel comes in. It's a new way for readers to connect with authors. Every book is free for a limited time and readers support the book by leaving honest reviews.
Hurry and get your copy by just clicking here to get started. Please help spread the word to friends about this FREE offer. Looking forward to your reviews.  Thanks for reading!!
Are you and your child ready to get in the game?
All the best,
Suzanne Wind
Mom with A Mission
Author of The SMART Playbook. Game-changing life skills for a modern world (for ages 7-12)
TESTIMONIALS