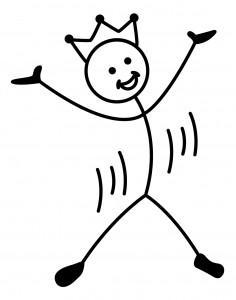 Handle yourself with good manners and you WILL leave a good impression.
Use the golden rule! Do unto others, as you would have them do unto you.
Have tact! See the positive instead of focusing on the negative.
Stand tall and straight to look confident and always acknowledge the presence of others.
Use eye contact to show respect, interest, care and that you appreciate what is being said.
Always play a good host and guest!
Take the time to write a thoughtful thank you note.
Understand and apply the word 'commitment' to your life. A promise that you MUST follow through regardless of your talents or your mood.
Practice good sportsmanship to make you a great athlete.
Always have character! Do the right thing because it is the right thing to do!
The SMART Playbook: Game Plan #1: Social Skill Basics to remind my kids to follow these rules and to challenge them to practice them in their lives! My kids already have a couple of favorite challenges. Nicky loves working on "The Perfect Handshake" and Charlie has come up with our family commitment slogan "Quitters never win!".
For a sample and a sneak peek inside this chapter, CLICK HERE!  And please feel free to read the wonderful praise that we have received!
Are you and your child ready to get in the game?
Best, Suzanne
Mom with a Mission