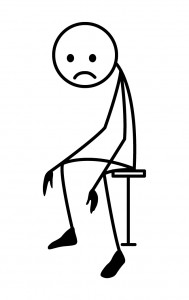 Dear Parents: It's Not Our Fault!
My kids tell me all the time when I embarrass them. I've got news for them – while I love them with everything I've got, they've also  found ways to embarrass me, too!
With reflection, it's not my fault, and I don't blame my kids either. The times we live in now are much different than when the parents of today were kids themselves. Digital technology has taken over nearly every facet of our lives, for us and our kids. Lost in the shuffle is the development of social skills and manners. Yet, these capabilities are still just as important as ever (ask any college recruiter, employer or someone new to your neighborhood)!
Maybe that's what drove me to write The SMART Playbook. It took two years of researching and drafting, but I did it. I'm not an expert, I'm just a Mom – that is a Mom with a Mission – to decode the unwritten rules of social grace for a modern world.
You know what, I'm glad I did it.  The kids helped me with the drafting, and are working through The SMART Playbook now. They inspired and encouraged the game format of the book. If nothing else, they know what is expected of them. It's written down and they can refer to it whenever they want. They also can make a game of learning about manners and social skills, and they're more motivated to put time into it than ever before.
Look, kids are kids. We all know that. Will I keep embarrassing them? You bet. Will they keep embarrassing me? Definitely. But they know the rules now. As they grow up, social skills and manners will be a more important part of their life. I gave to it  what I could, and I want to share with other families too!  The SMART Playbook offers a game plan for immediate satisfaction and long-term development. I hope you enjoy it!
Best, Suzanne
Mom with a Mission
Author of The SMART Playbook – an educational workbook for kids ages 7-12.
Please click here to learn more. We also hope you will be social with us- Like us on facebook and please pass this on!